Our Team
Our leadership team came together in Austin, Texas, each with their own specialties and experience. Together, we bring a mix of overseas manufacturing experience, logistics expertise, and analytical acuity to the table. Your table. We are united by our mission to support product innovation by democratizing the design and manufacturing process.
Meet Co-Founder & CEO
Henrik Johansson
Henrik not only co-founded and leads Gembah, but he is a former CEO and co-founder of several venture startups, most recently Boundless, a $100M promotional products company and platform. When he isn't focusing on building Gembah, you can find him trail running or eating Mexican food.
Meet Co-Founder & Chief Product Officer
Zack Leonard
Zack is a seasoned strategy and operational executive, bringing a wealth of experience from previous roles at Instacart and Dropoff. There isn't a challenge he won't take on. Ask him what he loves most about Gembah and he'll tell you it's solving complex problems for clients and scaling operations.
Meet Co-Founder & Head of Sales and Partnerships
Steven Blustein
Steven is an entrepreneur/innovator extraordinaire. He is CEO and Co-Founder of Shark Tank winner, PrideBites, securing a deal with not one but two Sharks. Steven serves as a Gembah advisor, is well-versed in overseas marketing, what it takes to bring an idea to life, and anything to do with dogs.
Learn About Gembah Investors
Silverton Partners
The Silverton team partners with entrepreneurs who are dedicated to tackling growth markets and building lasting companies. In partnering with Silverton, companies benefit from its vast network and expertise from decades of growing and investing in successful businesses. Founded in 2006, Silverton Partners is based in Austin, TX, and was the initial institutional investor for Sailpoint, WP Engine, SpareFoot, TrendKite, TurnKey Vacation Rentals, The Zebra, AlertMedia, SpyCloud, Self Financial, Billie, and Aceable among others.
ATX Venture Partners
ATX Venture Partners is an early-stage venture capital firm focusing on the South-Central US. Since its inception in 2014, the company has been focused on B2B software, marketplaces, and applications. ATX diversifies across a number of targeted industries, seeking companies dedicated to innovative, world-changing, transformative solutions. Current investments include Everfest, AlertMedia, SourceDay, PrideBites, The Guild, and Assurely.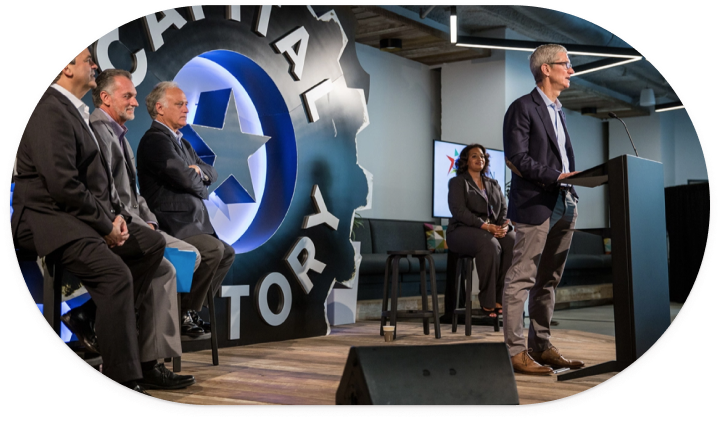 Capital Factory
Capital Factory is the center of gravity for entrepreneurs in Texas, the number one startup state in the U.S. Thousands of entrepreneurs, programmers and designers gather by day and night, in-person and online for meetups, classes and coworking. With boots on the ground in Austin, Dallas and Houston, Capital Factory meets with the best entrepreneurs in Texas and introduces them to their first investors, mentors and customers. According to Pitchbook, Capital Factory has been the most active investor in Texas since 2013.
Let Us Help You Get Started
We'll help match you with the right experts for your journey
Get Started